Hot off the fine art presses at Electric Works:
Special Event: The Periodic Calendar with APE CON MYTH!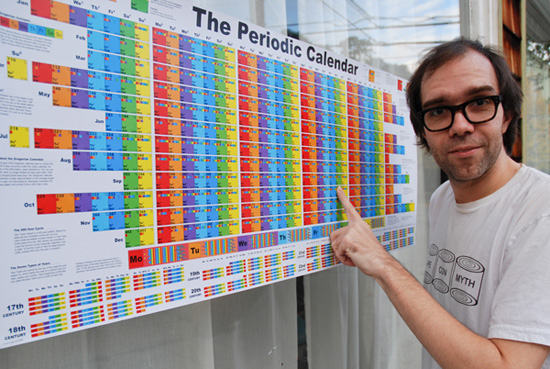 Electric Works is pleased to present the Periodic Calendar, a new breakthrough in temporal technology, created by Joey Sellers and conceptual art think tank Ape Con Myth.
Modeled on the periodic table of elements, the Periodic Calendar reveals the full landscape of possible days by categorizing years based on their first day of the week. In this new system, the days of the month shatter into the isotopes of multiple elements, creating a perpetual calendar capable of exploring past, present and future dates as never before.
Ape Con Myth's work revolves around the search for new possibilities within reality by rewiring the abstract structures governing it and for five years has produced variations on the traditional wall calendar in an effort to change the way the world thinks about and experiences time.
Please join us on January 19th from 2-3pm to get a glimpse of the future with the creator of the Periodic Calendar. Sellers will give a short talk about what Type of Year 2013 will be and help the curious find their Birth Elements.
You can also participate in Ape Con Myth's Calendar Trade-In Program by bringing in your new, yet hopelessly outdated, regular wall calendars for a $5 discount on the Periodic Calendar.
Hope to see you there!
Electric Works
1360 Mission St.
San Francisco
(Sa3) January 19th, 2013
2-3pm